Milbank: L'affaire dandruff shows Trump has become the alpha
DANA MILBANK
Washington Post Writers Group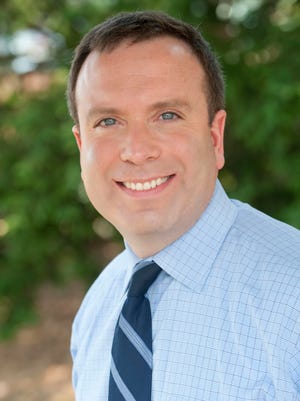 WASHINGTON – A century ago, l'affaire Dreyfus roiled France. Now, that nation must confront l'affaire dandruff.
Standing in the Oval Office on Tuesday, and with the cameras rolling, President Trump announced to the world that the president of France, Emmanuel Macron, has a flaky scalp.
"We do have a very special relationship," Trump said, with the French president at his side. "In fact, I'll get that little piece of dandruff off. You have a little piece."
Trump brushed a finger on Macron's lapel. The Frenchman looked puzzled, then mustered a laugh. A moment later, Macron looked down and brushed off his jacket.
Exposing a visiting head of state for having a Head & Shoulders condition was not diplomatic. But then, Macron's visit with Trump felt less like a summit than a renewal of the two leaders' year-long competition to establish alpha dominance.
When they first met, Macron gripped Trump's hand so hard, and for so long, that knuckles whitened. Macron later explained the handshake was a symbolic show that he wouldn't give in to Trump. Macron then invited Trump to Paris for Bastille Day, and the American was so envious of Macron's military parade that he told his generals to organize such a hardware display.
But on this trip, Trump is the alpha – and Macron has settled into obedience. Their dandruff dance was probably the most intimate an American president has been with a foreign leader since President George W. Bush, after a Camp David sleepover with Britain's Tony Blair, announced they used the same toothpaste.
Like Macron, Blair sought close ties to a president with whom he had many disagreements. For his troubles, the British prime minister became known as Bush's poodle. Macron is now gambling that his relationship with Trump will elevate his stature on the world stage. Will he become Trump's bichon frise?
When Macron arrived on Tuesday morning at the South Portico of the White House for a military welcoming ceremony, Trump extended a hand. Macron threw an arm around Trump and planted "la bise" – a familial kiss – on each of Trump's cheeks.
Behind the scenes, Macron flattered Trump. At a private dinner at Mount Vernon on Monday, according to a readout provided by the French government, the men "spoke about the U.S. economy, President Trump's polls and preparations for the U.S. midterm elections." (But did he say Trump's polls were "amazing"?)
At their joint news conference Tuesday afternoon, Macron gazed intently at Trump while the U.S. president spoke, and waited patiently as Trump routinely had the final word – even on questions directed at Macron.
Macron endured Trump announcing to the media that Macron "is going to be a great president of France" – as if he hadn't already been on the job for a year. Macron endured, too, a photo op with Trump along the colonnade outside the Oval Office, after which Trump seized Macron's hand and pulled him away, as if leading him by a leash.
The French president couldn't seem to keep his hands off Trump. On their walk to Marine One, Macron put his hand on Trump's back. Seated in the Oval Office, Macron put his hand on Trump's knee and affectionately touched Trump's forearm.
Trump clearly enjoyed this treatment. When Macron, at the news conference, praised Trump and the "sincere friendship" shared by the two men, Trump shook his hand and then pulled Macron in for another "bise."
"I like him a lot," Trump said.
At this, Macron touched Trump on the forearm again. Later, Macron threw his arm over Trump's shoulder again as they retreated through the Cross Hall.
The behavior raises an obvious question: What's Macron's game? Typically, people flatter Trump's ego so he will agree with them on substantive matters. But that didn't seem to work for Macron.
He wanted Trump not to trash the Iran nuclear deal, but he sat silently in the office as Trump denounced the "insane" and "ridiculous" pact. Later, Macron appeared to drop his position that the deal needs to be kept in place. French reporters asked why he changed his mind ("Is it because you could not convince him?"), and whether there were any "reciprocal interests" in the relationship that would benefit France.
Macron apparently believes the relationship will benefit him politically. He spoke about the honor of being Trump's first state visitor, and the Elysee Palace boasted that the two men have had about 20 phone calls in addition to their six meetings.
But at least so far, Macron has little to show for his newfound submissiveness. Maybe the alpha dog will throw him a bone. But if Trump rips up the Iran deal and fails to exempt France from trade barriers, people will look back on Macron's behavior during l'affaire dandruff and scratch their heads.