Milbank: For Trump, it's (white) America First
Dana Milbank
On Twitter @Milbank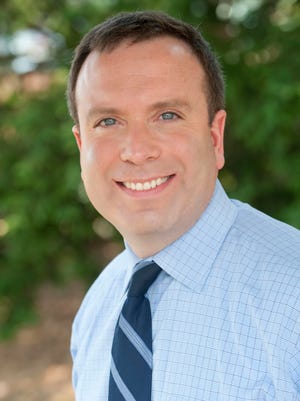 WASHINGTON — It was just another week in Donald Trump's (white) America First campaign.
At least twice, Trump alleged that people have called for a "moment of silence" for the madman who killed five police officers in Dallas at a Black Lives Matter protest.
It was an incendiary accusation, bound to stir racial hatred. Like Trump's accusation that New Jersey Muslims cheered the 9/11 attacks, this, too, was categorically false. There was no sign of such calls, and a top Trump adviser couldn't corroborate the allegation.
Yet what was remarkable about the reckless accusation was how unremarkable his appeals to racist division have become. Days before and after this, Trump:
Snubbed the NAACP, saying he wouldn't appear at the group's convention.
Declared in response to racial unrest that "I am the law-and-order candidate" — an echo of Richard Nixon's response to violence following the Martin Luther King Jr. assassination.
Spoke at a rally where supporters answered mentions of President Obama with "he's a monkey" and to Hillary Clinton by saying "hang that b----."
There was also the deleted tweet by prominent Trump surrogate Carl Paladino, who said of the African-American attorney general: "Lynch @LorettaLynch." Paladino said it was a mistake, and maybe it was. Republicans trying to justify their support for Trump would like to believe each incident is a misunderstanding. But they can't all be.
As Republicans head to Cleveland to nominate Trump for the presidency, here, for easy reference, is a compilation of what they'd like to ignore.
Trump tweeted an image, previously posted to an anti-Semitic message board, of a Star of David atop paper money; he later objected to his campaign's decision to remove the image.
Trump told Jewish Republicans, "You're not going to support me, because I don't want your money."
He had supporters raise their hands in a loyalty pledge that the former head of the Anti-Defamation League called a "fascist gesture."
He said, "I don't have a message" for supporters of his who threatened anti-Semitic violence against a Jewish journalist. The journalist had criticized Melania Trump, who said the writer "provoked" the attacks.
His "America First" campaign slogan was the name of the isolationist, anti-Semitic organization that opposed involvement in World War II.
Trump has banned news organizations such as The Washington Post from covering his events but credentialed the host of a white-supremacist radio show.
He repeatedly declined to disavow David Duke and the Ku Klux Klan in a CNN interview.
The Trump campaign chose a white supremacist as a delegate, then blamed a database error.
Trump retweeted a message from @WhiteGenocideTM, phony crime statistics that originated with neo-Nazis, a quote from Mussolini and a message from a supporter who embraces a "right-wing death squad" label.
Trump's campaign blamed an intern's mistake for tweeting an image of Nazi soldiers superimposed on the American flag next to Trump's likeness.
Trump said of a Black Lives Matter protester at his event: "Maybe he should have been roughed up."
He talked of paying the legal fees of a supporter who sucker-punched a black protester at an event.
He told reporters at another event to "look at my African-American over here."
Trump launched his campaign saying Mexico was sending "rapists" across the border. He called for mass deportation of 11 million illegal immigrants, "half" of whom are criminals.
He said the American-born judge in a fraud case against him could not be impartial because of his Mexican ancestry.
He tweeted a photo of himself eating a taco bowl and wrote "I love Hispanics!" He kicked Jorge Ramos out of a news conference and said Univision "takes its marching orders" from Mexico.
He used broken English to mock Asians. He used a fake Indian accent. He referred to Elizabeth Warren, who has claimed Native American ancestry, as "Pocahontas." He asked a Texas-born Asian American at one event: "Are you from South Korea?"
He proposed banning Muslims from entering the United States. He spoke favorably of forcing those already here to register with authorities. When a turban-wearing protester was removed from one of his events, Trump said: "He wasn't wearing one of those hats, is he?"
Trump said last year that "I really don't know" if President Obama was born in the United States. He implied that Obama was responsible for the Orlando mass shooting. He let stand the remark by a questioner at one of his events who called Obama a Muslim.
There are many more, but this column is 750 words — far shorter than Trump's catalogue of racial animus.
Dana Milbank is a columnist for The Washington Post.