The Trump cleanup patrol just had its biggest job yet
DANA MILBANK
Washington Post Writers Group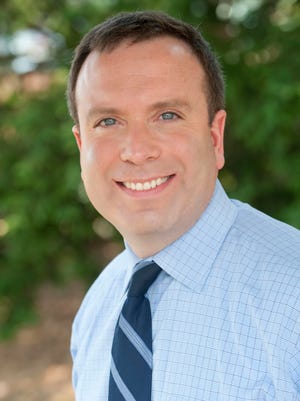 WASHINGTON – I had dreams of fire and fury like the world has never seen. But now I will sleep well, because Rex Tillerson told me I should.
There is no "imminent threat" from North Korea, the secretary of state said Wednesday. "The American people should sleep well at night."
It was the latest and largest cleanup effort undertaken by President Trump's aides since this administration took power. Their unorthodox message to an anxious nation and a panicky world: Don't take seriously what the president of the United States says.
On Tuesday, Trump delivered remarks about North Korea – words we now know to have been off the cuff – that pushed the world toward a nuclear standoff last seen in the Cuban missile crisis: "North Korea best not make any more threats to the United States." If it does make threats, the president said, "they will be met with fire and fury like the world has never seen."
Many noted that the wording echoed Harry Truman's warning at the time of the Hiroshima and Nagasaki bombings. But then came Tillerson, a former Exxon Mobil chairman, to assure us that there is nothing to see. It has become a familiar exercise: walking back, cleaning up and outright contradicting crazy things uttered by the man with the nuclear codes.
Early on, Trump announced that he had undertaken "a military operation" to get "really bad dudes out of this country, and at a rate that nobody's ever seen before."
The U.S. military is rounding up immigrants? Mexican officials freaked out. Homeland Security Secretary John Kelly, now White House chief of staff, drew cleanup duty: "No – repeat, no – use of military force in immigration operations. None," he said.
Trump, during his visit to Brussels, shocked allies and caught his aides by surprise when he struck from his speech to NATO the usual commitment to the alliance's collective defense – this, after calling NATO "obsolete." Days later, Vice President Pence reassured jittery allies: "Our commitment is unwavering. ... An attack on one of us is an attack on all of us."
Trump, appearing alongside Israeli Prime Minister Benjamin Netanyahu, upended the long-standing U.S. commitment to a "two-state" solution to the Israeli-Palestinian conflict. "I am looking at two-state, and one-state," he said. Nikki Haley, U.S. ambassador to the United Nations, was put on walk-back patrol the next day. "We absolutely support a two-state solution," she said.
The cleanup patrol has a domestic operation, too. When Trump, after a bipartisan budget deal was reached, tweeted the notion that "our country needs a good 'shutdown' in September," White House budget director Mick Mulvaney was hustled out to contain the damage: "We've averted a shutdown. ... That's the story now, not what might happen in September."
After Trump tweeted that "Obama had my 'wires tapped' in Trump Tower," Sean Spicer, who was White House press secretary, famously explained that "the president used the word 'wiretaps' in quotes to mean, broadly, surveillance and other activities."
And, when Trump attacked the "FAKE NEWS media," which he proclaimed "the enemy of the American People," Pence swabbed the decks, saying: "Rest assured, both the president and I strongly support a free and independent press."
The cleanup patrol has a broad membership. Gary Cohn, director of the National Economic Council, took a turn after Trump declared: "The Germans are bad, very bad. See the millions of cars they sell in the U.S.? Terrible. We will stop this."
Cohn said: "He said they're very bad on trade but he doesn't have a problem with Germany." Cohn explained that Trump's "dad is from Germany."
Asian allies became restless after Trump, during the campaign, said Japan should protect itself from North Korea, or pay the United States for providing security. After taking office, he jettisoned the Trans-Pacific Partnership and told South Korean officials that it would be "appropriate if they pay" for a $1 billion U.S. missile defense system. This time, it was the duty of the national security adviser, H.R. McMaster, to reassure South Koreans that the United States would continue to pay.
And Defense Secretary Jim Mattis, as part of an extended cleanup tour in the region, announced: "Our commitment to the defense of the Republic of Korea and Japan, to include the employment of our most advanced capabilities, is ironclad."
There have been other such cleanup actions, and there will inevitably be many more, as Trump's advisers try to convey to the world a perverse message: Rest assured, sleep well – and pay no attention to the president's yammering.
Follow Dana Milbank on Twitter, @Milbank.