Senate committee takes hatchet to budget plan
Bruce Krasnow
The Santa Fe New Mexican
SANTA FE — A Senate panel took another bite out of government spending this weekend and agreed to move forward with a budget that reduces basic government operations in New Mexico by $7.4 million starting July 1.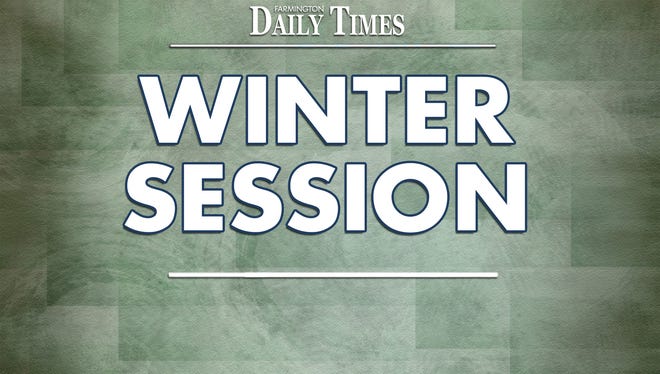 The $6.2 billion spending plan cuts appropriations for almost every government office and service — except for those connected with public safety and child welfare. It moves forward with raises for state police and correctional officers and increases annual pay for Level 2 and Level 3 teachers by $2,000.
But community colleges and state universities would see reductions of 2 percent, with some exceptions. Medicaid, education, courts and corrections would see modest increases, but few other services are spared from the budget hatchet, including priorities for Gov. Susana Martinez, such as tourism and economic development.
The Senate Finance Committee took just 20 minutes Saturday to amend the budget passed by the House of Representatives, which increased fiscal year 2017 spending by $81 million. There was little discussion as the committee cut some $90 million from that plan and voted down more than 200 proposed amendments, most requesting spending boosts for various initiatives.
There was no public comment, and those attending were not given line-item details until after the vote.
General fund dollars are down 12 percent year to date, while the initial forecast for setting budget numbers estimated growth of 3.4 percent. This was the third attempt to draft a new spending plan in which numbers are pegged to a revenue forecast that has been highly volatile because of crude oil prices.
"The adoption of this budget will reflect how serious this situation is for the state of New Mexico," said Sen. John Arthur Smith, the Deming Democrat who chairs the committee. "We're going to keep our fingers crossed that the decline will start to flatten out."
"This is painful, extremely painful," said Sen. Nancy Rodriguez, D-Santa Fe. "We did the best with what we have and with what we don't have."
Sen. Steve Neville, R-Aztec, said the Republican caucus was in agreement with the governor that the budget should move with no tax increases. With the economy so fragile, any hikes could very well make things worse.
"My party wouldn't look at it," he said. "The reason we don't have money is the economy is bad and taking more in taxes might make it worse."
The budget still has to gain final approval from the full Senate and then move to the House of Representatives for concurrence on the changes. But Neville and others said the members have been working together with House Republicans and the governor to gain consensus so it can pass both chambers before the end of the 2016 session on Thursday.
The proposal calls for use of general fund reserves of $347 million on June 30, 2017, or 5.6 percent. But it also gives the administration authority to draw down reserves to as low as 4 percent if the economy continues to deteriorate. Lawmakers emphasized there should not be any layoffs.
Both parties this week showed considerable fatigue with the budget process, which doesn't draw much attention in most years. Saturday's actions were the third revisions, with the initial budgets for both Martinez and lawmakers being released in early January and based on a December estimate of $232 million in new money.
Then, after hearing testimony from agencies and department heads on that spending level, the House Appropriations and Finance Committee got an updated forecast for just $30 million in new money — a decrease of 87 percent.
After the shock wore off, House members scrambled and agreed to sweep unspent money from dozens of state accounts into general operations. They also trimmed spending on new programs, canceled most employee raises and passed a document that upped spending just $80 million from 2016.
Now, after another week of economic data and financial modeling, the Senate is sweeping even more money into the general fund and cutting almost all program expansions.
For Democrats, the back-and-forth has been a reminder of how recent tax cuts may now be impacting basic government services.
Republican State Land Commissioner Aubrey Dunn was among those who said the state waited too long to tackle the budget imbalances and that it would take both spending cuts and taxes to restore solvency.
At a news conference Wednesday, Smith responded that lawmakers rely on numbers and estimates and experts, and many of those outside the Roundhouse are looking too hard for someone to blame.
​"I hope this doesn't become a partisan issue," he said. "These are difficult times for our citizens, these are difficult times for the executive, these are difficult times for the Legislature trying to work through this. We're a citizen Legislature, and we're doing the best we can."​