Revised spending plan addresses falling revenue
Bruce Krasnow
The Santa Fe New Mexican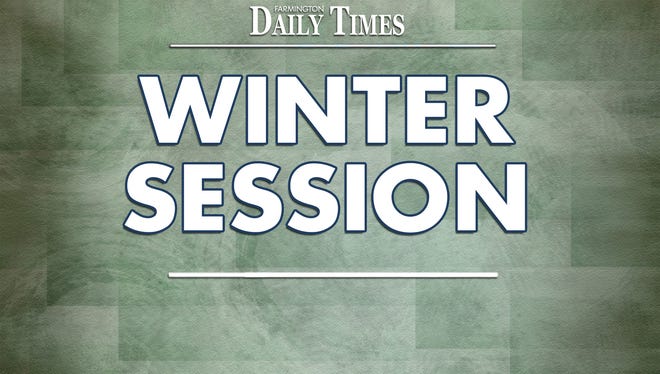 SANTA FE — New Mexico House lawmakers Tuesday made it clear that a broom, not a chopping block, is the preferred tool to find money that can pay for basic government services in the wake of falling revenue.
After meeting with agency heads and fiscal analysts for three days, the House Appropriations and Finance Committee unveiled its recommended spending levels for state government starting July 1. The proposal, which has the support of Gov. Susana Martinez, sweeps $74.2 million from unspent money and fund transfers into operating state agencies, eliminates almost all employee pay raises, and cuts allocations to colleges and universities.
Six programs or agencies would receive small spending increases, including education, Medicaid, corrections and the state police, while higher education spending would be reduced by $3.4 million, about 0.4 percent.
The recommendation also calls for the Legislature to pass a "solvency bill" that would transfer the entire $147.5 million balance from the Tax Stabilization Reserve into operating reserves and give Gov. Martinez authority to spend that if revenue craters further. Dollars are deposited into the Tax Stabilization account when general fund reserves exceed 8 percent. It was last tapped for operations amid the 2009 recession, which was sparked by the real-estate and Wall Street meltdown.
Lawmakers are also moving to use $18.5 million of settlement money from tobacco companies to help pay for Medicaid. The overall package calls for an $82 million increase in spending.
"We're right on the edge," Rep. Stephanie Garcia Richard, D- Los Alamos, told her colleagues. If revenue projections fall again, lawmakers might be back this summer for a special session — when they would need to bring out the chopping block for more spending cuts.
New Mexico's Republican governor has refused to consider tax increases at the state level and with no new recurring revenue, the House budget would spend down reserves to the lowest level in years.
"The bottom line is there is no other way to get the money," said Albuquerque Republican Rep. Jimmie C. Hall, appropriations vice chairman.
This is the third attempt at crafting a budget for the spending year that begins July 1. Just last summer, New Mexico was preparing a budget that anticipated $292 million in new money coming into the general fund for expanded initiatives. That was scaled back in December to $232 million, but plummeted last week when lawmakers were told to budget no more than $30 million in added spending for fiscal year 2017.
The decline comes as projected tax revenue from the oil and gas sector has declined. As of now, the 2017 spending plan is pegged to a price recovery in crude to $38 a barrel, averaged over the 12-month fiscal year. Tuesday's price was below $30.
Both Democrats and Republicans on the panel credited legislative staff and agency analysts with uncovering enough small troves of unspent money to keep basic services intact.
A broad-based salary increase for state employees is no longer included in the House recommendation. Under the $6.31 billion spending plan, the only employees seeing increases would be state police and correctional offices and a select group of teachers who qualify for merit pay.
Previous budgets had allocated increases for all entry-level teachers and employees in hard-to-recruit positions.
"We've done a yeoman's job of focusing on the essential public services that the state needs to run," said Rep. Conrad James, R-Albuquerque.
Democrats agreed, but some voted against the recommendations because of what might be a shortfall for uninsured New Mexicans receiving behavioral health services. Rep. Christine Trujillo, D-Albuquerque, opposed the budget because of the $8 million allocation for teacher merit pay, when other state employees have to do without a raise.
Rep. Patricia Lundstrom, D-Gallup, said sweeping money from reserves and other accounts puts the state on shaky ground for fiscal year 2018. "I have concerns about what we have in front of us," she said. "We're creating a major hole for next year."
But Larry Larrañaga, the Albuquerque Republican who chairs the committee, said the measures are a necessary bridge to 2018 when he sees energy prices improving. "We'll deal with next year, next year," he said.
The committee voted 12-5 to move forward with drafting the spending levels that would be included in House Bill 2. That full appropriations bill is now set to be considered on Thursday.
The legislation would then move to the full House and on to the Senate, which is controlled by Democrats.
One example of the proposed transfers includes University of New Mexico Health Sciences contributing $20 million to help pay for the expansion of Medicaid.
Under the proposal:
Medicaid would see a boost of $38.5 million.
Public Education would see $31.2 million more.
The Administrative Office of the Courts would see an boost of $1 million with an additional $1.1 million to the District Attorney Offices around the state, and $1 million for the Office of the Public Defender.
The Department of Tourism would get $500,000 more to spend on the New Mexico True marketing campaign, while other increases for economic development measures have been scaled back.
Children, Youth and Families would get a boost of $6.1 million.
The Department of Corrections would get $12.1 million for employee raises and recruitment.
The Department of Public Safety would get $5.1 million for raises.
The measure would cut $3.4 million from higher education, including community colleges, leaving a spending level of $845 million and discretion to raise revenue from not filling positions or increasing fees.
Some of the so-called fund sweeps include the transfer of:
$10 million from a fund at the New Mexico Finance Authority that serves as a protection in the event of bond defaults. It has a balance of $30 million and no defaults have occurred.
$6 million from the Workers Compensation Administrative Fund, which is running an operating surplus.
$8.7 million from the state Unemployment Compensation Reserve.
$6 million from a fund holding penalty and interest payments from delinquent property tax payments.
$6 million from the Regulation and Licensing Department from licensing fees collected by more than a dozen oversight commissions including athletic trainers, podiatrists, counselors, therapists, architects.
One of the agencies that would see a rollback from the initial budget is the New Mexico Spaceport Authority. The agency asked for another bridge loan from the Legislature to sustain operations until it can generate income from space launches. The Spaceport was requesting $2.3 million, but is now set to receive just $1 million.
General Fund reserve balance
2003: 6.3 percent
2004: 10.9 percent
2005: 15.7 percent
2006: 16.9 percent
2007: 12.6 percent
2008: 13.1 percent
2009: 6.6 percent
2010: 5.1 percent
2011: 9.6 percent
2012: 13.1 percent
2013: 10.5 percent
2014: 10.8 percent
2015: 11.6 percent
Estimated 2016: 6.4 percent
Note: All years refer to fiscal years