Farmington City Council District 1: Thomas Hawkins
Thomas Hawkins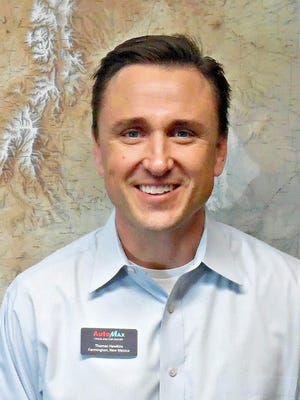 Name: Thomas J. Hawkins
Age: 38
City or town of residence: Farmington
Contact information: 505-486-9269, thomas@thomashawkins.org, thomashawkins.org​ and facebook.com/4thomashawkins.
1. Describe your platform and why you are running for office.
My purpose is very simple: I want to be able to hold my head high as I look my children in the eye when they ask me how I was able to help lead Farmington into the next chapter of its history. As a leader in this community, I know we all need to be focused to help ensure that the next generation is better off than we are. As a city councilman, I will bring a host of traits to the council that I believe Farmington is in need of. First, I will bring a new perspective to the table. I will provide a new set of eyes to the issues that the city currently faces. I truly love Farmington, and my outlook for the progression of the city will complement the ideas that the other city council people currently provide. I believe that the citizens of Farmington are looking for new approaches to combat existing problems and would like new leadership to step up and help shoulder the responsibility. I am uniquely positioned to do this because I possess an intense drive for success. I am passionate about seeing Farmington progress into a place where its citizens love to live, and likewise I am passionate about drawing visitors in to see what an amazing and unique city we have.
2. What do you think is the biggest challenge facing Farmington?
The biggest challenge Farmington faces is its economic development. In Farmington, we are presently at a crossroads. Our 20th-century jobs, namely coal, oil and gas, are under attack. As a community, we must face the startling reality that our extraction-based economy, specifically coal, is and will continue to be under assault. We must find ways to diversify our economy and invest in technology, training and infrastructure to help facilitate this diversification. Our energy economy will continue to be an important part of our overall economy for years to come. It affords us the means to bridge our community to the employment opportunities of the future. I will fight to protect our current energy jobs, and at the same time, I will work to develop new economic opportunities. Additionally, economic development can be spurred by lowering regulations and keeping red tape to a minimum. This will enable us to stay competitive and will help ensure lower taxes in otherwise difficult times.