House set to consider $6.3B budget Saturday
Bruce Krasnow
The Santa Fe New Mexican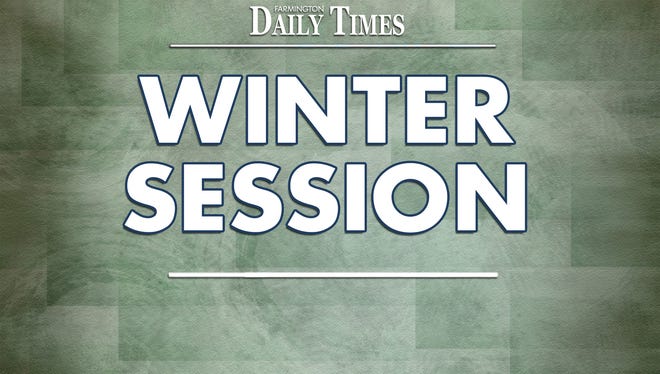 SANTA FE – The Republican-led House of Representatives is set to consider a $6.3 billion state budget that boosts money for a handful of initiatives, while cutting higher education and spending down reserves to the lowest level in years.

The fiscal year 2017 budget, House Bill 2, passed the House Appropriations and Finance Committee on Thursday by 12-5 vote and is set to be considered Saturday by the full House.

Just five program areas will receive significant new money in the coming budget cycle — education, Medicaid, corrections, child welfare and the Department of Public Safety. The funds for corrections and public safety are largely targeted toward raises, not program expansions. State universities and community colleges will receive appropriation reductions averaging 0.04 percent.

Most other agencies are set to receive the same amount of money as the current year, except for the courts, prosecutors and the public defender, where increases are between 1 percent and 2 percent over current spending.

Revenue forecasters for the state are expecting just $30 million in new money for the fiscal year starting July 1. That would not even be enough to cover the boosts for education or Medicaid. The proposed budget adds $80 million in spending.

Most of those dollars come from a wide variety of fund transfers and sweeps of unused money from dozens of accounts throughout state government, including $10 million in unspent capital outlay money going back to 2008 and $10 million in money reserved for bond defaults from the New Mexico Finance Authority.

A companion bill that was also passed by the committee, HB 311, details the transfers. They also include tobacco settlement funds, money from delinquent property tax penalties, funds earmarked for future litigation settlements and potential disputes with the federal Department of Education, as well as obscure balances from funds such as the "weight distance tax permit fund" ($450,00); the "insurance fraud fund" ($1 million) and the "professional engineer and surveyors fund" ($1 million).

The budget also reaches into surpluses generated from licensing and inspection fees in more than a dozen commissions under the Regulation and Licensing Department — including boards overseeing athletic trainers, podiatrists, chiropractors, barbers and cosmetologists, architects, pathologists and respiratory-care therapists.

Legislative staffers said the transfers won't hinder agencies from doing their jobs or having a sufficient balance. Fund sweeps of more than $100 million were also approved under Gov. Bill Richardson in each of the budget years 2009 and 2010, according to the Department of Finance and Administration.

Republican Rep. Larry Larrañaga, chairman of House Appropriations and Finance Committee, said the revenue declines are no one's fault and that the state has to adjust as best it can. He pointed to the state of North Dakota, which has a $1 billion deficit, an amount equal to 20 percent of its operating budget.

"Given the decline in revenue due to the drop in oil prices, we had to carefully prioritize our spending decisions," he said. "With what we have here today, this is the best we can do."

Democrat Luciano "Lucky" Varela of Santa Fe, who has been serving in the House since 1987, said the House has little choice because any bill to raise revenue would suffer "the kiss of death on the House floor" from the Republican-led majority and Gov. Susana Martinez.

Other Democrats voted against the budget, saying it left them unsettled.

Democratic Rep. Christine Trujillo, a retired educator from Albuquerque, said it was fundamentally unfair to give Public Education Department Secretary Hanna Skandera $8 million for teacher merit raises when most other state employees would not even receive a cost-of-living adjustment.

"It bothers me greatly. I can't support the budget for this reason," she said.

The panel also approved the transfer of $147.5 million from a fund called the Tax Stabilization Reserve to operating reserves. The latter requires a vote by the Legislature, while the governor would be authorized to tap 1 percent of the operating reserves without calling lawmakers back for a special session.

Without the sweeps, there would be not be sufficient revenue to cover appropriations, and there "would not be a balanced budget as required by the New Mexico Constitution," reads an analysis of the bill.

Budget increases

Largest proposed increases in the fiscal year 2017 House budget:

• $38.5 million for Medicaid.

• $31.2 million for education.

• $12.1 million to the Department of Corrections.

• $5.1 million to the Department of Public Safety to assist in the recruitment and retention of officers. Public Safety would also receive $1.2 million to process the existing backlog of untested rape kits in the state and $600,000 to establish a centralized database for criminal records.

• $6.1 million to the Department of Children, Youth and Families to hire more social workers.