High-speed chase ends after attempted theft
Joshua Kellogg
jkellogg@daily-times.com
FARMINGTON – A high-speed vehicle chase around Shiprock Thursday ended when the suspect in a stolen vehicle case was arrested while allegedly trying to steal a Navajo Nation Division of Public Safety police vehicle.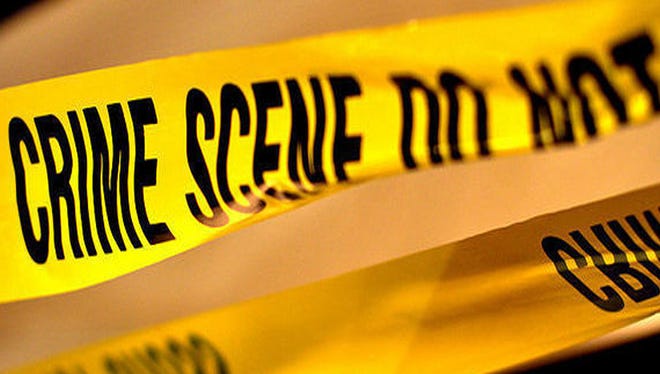 Louie Salome Sanchez, 35, of Albuquerque, is facing charges after fleeing law enforcement officials and leading officers on a high-speed chase across San Juan County. The San Juan County Sheriff's Office intends to obtain an arrest warrant for Sanchez for aggravated fleeing, a fourth-degree felony, according to spokesman Detective Lt. Kyle Lincoln. Chad Pierce, New Mexico State Police spokesman, said charges are pending against Sanchez.
Sanchez was arrested around 9:30 a.m. Thursday near mile marker 90 on U.S. Highway 491 by officers in the Shiprock office of the Navajo Nation Division of Public Safety, San Juan County Sheriff's Office and New Mexico State Police.
Sanchez allegedly was driving south on U.S. Highway 491 in a stolen green truck when he crossed the median and crashed into a Jeep heading northbound, Pierce said.
Lincoln said Sanchez attempted to steal the Jeep from the female driver as officers arrived at the scene. The driver of the Jeep was not injured.
Sanchez then attempted to steal a Navajo police SUV that had its driver's door open when sheriff's deputy Jon Clark tackled him before Sanchez was able to enter the police vehicle, Lincoln said. Clark was treated and released after sustaining minor injuries during the altercation with Sanchez.
The chase began when San Juan County emergency dispatchers were notified at 8:43 a.m. Thursday that a green truck and red truck were driving recklessly through Farmington.
Lincoln said deputies spotted the vehicles heading west on U.S. Highway 64 near Harper Hill. The trucks started to weave in and out of traffic, running vehicles off the road. The deputies were advised to discontinue the pursuit of the trucks.
A sheriff's deputy and a state police officer later located the green truck, allegedly drive by Sanchez, next to U.S. Highway 64 near Fruitland, according to Pierce. The officers attempted to make contact with Sanchez on an unmarked dirt road adjacent to the highway, but Sanchez put the stolen truck in reverse and almost hit the state police officer and the sheriff's deputy, Pierce said.
State police began to pursue the stolen truck westbound on U.S. Highway 64 until they began to approach Shiprock and canceled the pursuit due to the alleged reckless behavior of the suspect.
Shiprock police officers later located the vehicle heading north on U.S. Highway 491 and began pursuit, according to Pierce.
Sanchez then turned the truck around and started driving south, where it hit stop sticks deployed by Shiprock police, deflating the truck's tires, Pierce said. The suspect continued driving south until he crossed the U.S. Highway 491 median and crashed into the Jeep, according to Pierce.
A green Dodge truck matching the description of the one allegedly driven by Sanchez was reported stolen around 7:20 a.m. Thursday from the 1200 block of North Lincoln Avenue in Farmington, according to Farmington Police Department spokeswoman Georgette Allen.
Lincoln said the red vehicle was reported stolen out of Albuquerque, but he had no additional details. Officers lost track of that vehicle in the Shiprock area, Lincoln said.
Joshua Kellogg covers education for The Daily Times. He can be reached at 505-564-4627.