Fire forces evacuation at Fruitland power plant
Officials say fire started as crews were working to dismantle a crystalline brine concentrating tower used to purify water for cooling equipment
Brett Berntsen
bberntsen@daily-times.com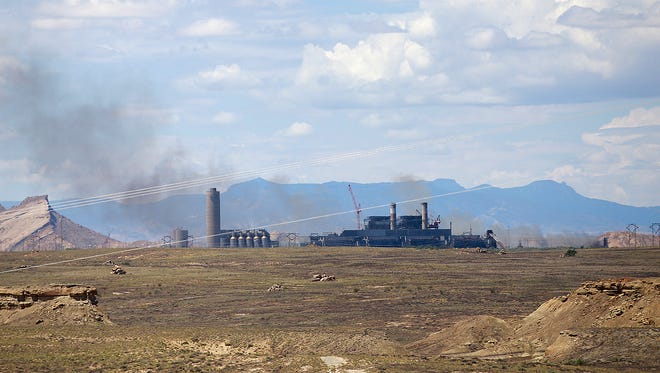 FRUITLAND — Authorities evacuated the Four Corners Power Plant near Fruitland today  after a chemical fire broke out inside decommissioned equipment.
The fire was reported at 10:54 a.m. and was extinguished shortly after 1 p.m., according to a press release from the San Juan County Office of Emergency Management.
Alan Bunnell, a spokesman with the Arizona Public Service Co., which operates the plant, said in a phone interview that the fire erupted as crews were working to dismantle a crystalline brine concentrating tower that is used to purify water for cooling equipment.
Titanium material inside the tower fueled the flames, creating the potential for toxic fumes. This prompted the evacuation of all non-essential personnel.
No injuries were reported, and all employees on site were accounted for, according to a statement from APS. The burning titanium posed a low toxicity risk, according to the statement, and the company will assess all possible environmental impacts.
The incident occurred on the north side of the plant, where crews are working to decommission three of the facility's five generating units. The remaining two units were offline for maintenance today  and were not affected by the fire.
Bunnell said APS does not expect the incident will impact its targeted timeline for closing the units by the end of the year.
Bunnell said the exact cause of the fire has yet to be determined, and the company to will complete a full analysis to determine what occurred.
As of this  afternoon, only a skeleton crew remained at the plant, and all nonessential personnel had been sent home for the day.
Brett Berntsen covers government for The Daily Times. He can be reached at 505-564-4606.