550 Brewing serving up eclectic Aztec atmosphere
On offer in the taproom are six different types of home-brewed beer, including OMG Blonde, Ginormous Stout, and Mile High IPA. The brewery is currently producing about eight kegs a week.
Leigh Black Irvin
lirvin@daily-times.com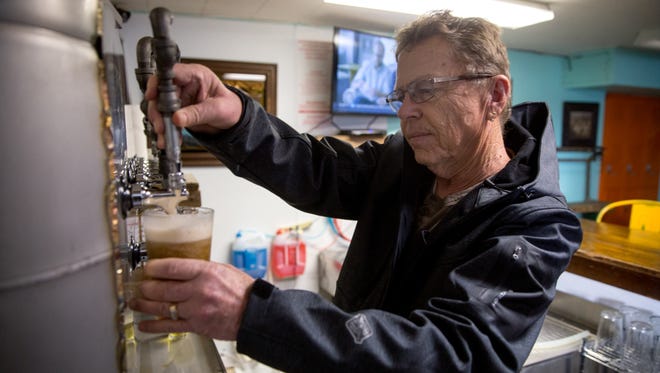 FARMINGTON — Aztec's sole taproom, 550 Brewing, is now open for business and is already attracting locals who want a casual place to gather and enjoy a cold one…or two.
Located at 119 East Chuska Street, the taproom opened at the end of December and has been offering several types of unique, home-brewed beers ever since.
The owners/managers of 550 Brewing are Aztec residents Mike Paschall and his son Sean Paschall.
Mike said the father-son team got started in the beer production business about five years ago by brewing beer for their own enjoyment in Mike's home north of Aztec.
"Once we stepped up our home brew game, we got kicked out of the kitchen so we moved into the corner of a metal shop building on my property," he said. "We got an off-site premises license, along with federal and state licenses, and started brewing keg-sized batches of beer. We're still brewing the beer there."
The father-son team had so much success selling their home-brewed beer at local events such as the Animas River Blues and Brews Festival and the Aztec Highland Games, they decided to open the taproom, which is located at the back of the building occupied by the Aztec Chamber of Commerce and the HUB, a business incubation center.
"We were looking at other properties in Aztec, but most required a lot of renovations," said Mike. "The city approached us about the HUB and offered to rent us the back section as a sort of incubator, to see if we'd like doing this type of business."
Mike and Sean, along with Mike's wife Cynthia, worked together to paint the space and make some cosmetic changes.
The eclectically-decorated taproom is furnished with retro chairs and tables, as well as Aztec-orange colored faux locker doors on the walls that are used to hide prizes like mug club memberships for special giveaways. The beer taps behind the bar are actually old oilfield tap handles.
The taproom also includes a small game room with an antique table hockey table and old barbershop chairs.
"It's decorated the way we want it, really laid-back, where people can come and hang out with friends," said Mike.
On offer in the taproom are six different types of home-brewed beer, including OMG Blonde, Ginormous Stout, and Mile High IPA, which cost $4 per mug. The brewery is currently producing about eight kegs a week, said Mike.
"The IPA is the most popular," he said. "When we started brewing four kegs of it at a time, we sold out right away. We've really increased our brewing capacity."
In addition to a Mug Club, which costs $60 per year and includes a stainless steel pint glass, dollar-off pints and a T-shirt, the taproom is also offering other customer-enticing activities, such as the Bring Your Buddy a Beer Board, where patrons can purchase a beer for a friend and write the friend's name on a board behind the bar, then invite the friend to come enjoy a beer.
"They pay for a beer for a friend, then post it on Facebook to invite them to 'come have a beer, buy a beer,'" said Mike.
The only food available in the taproom is free popcorn, though customers are encouraged to bring in food from other Aztec restaurants, such as the Aztec Bistro and Beer Belly's, or they can order food from Rubio's to be delivered to the bar. Soda, coffee and tea are also for sale in the taproom.
Outside is a large patio and yard where, Mike says, community events will take place.
"Every year the Aztec Boys & Girls Club holds a Harley Raffle fundraiser and gives away a bike," he said. "They'll be holding the next one here on May 27."
Future plans for the taproom include instituting a "Merchant Monday," where customers can come in with a receipt from a locally-owned store and receive a discount for their beer.
"It's a way to support local businesses," he said. "My (family members) own stores here, and we really want to help the local economy, which is so slow right now."
Leigh Black Irvin is the business editor for The Daily Times. She can be reached at 505-564-4621.
IF YOU GO
What: 550 Brewing
When: Open 3 to 9 p.m. Monday through Thursday, 12 to 11 p.m. Friday, 11 a.m. to 11 p.m. Saturday
Where: 119 East Chuska Street, Aztec
Info: Visit the 550 Brewing Facebook site