New Mexico oil and gas land sale denounced by activists, business owners

Adrian Hedden
Carlsbad Current-Argus
The leasing of federal land in New Mexico by the U.S. Bureau of Land Management to the oil and gas industry continued to draw the ire of environmentalists after the BLM announced the results of a Nov. 7 sale.
The sale, which offered tracts of land in New Mexico and Oklahoma produced about $18.4 million in revenue, records show, with almost half intended to be returned to the states where oil and gas is produced.
About 7,619 acres were offered in the auction, on 16 parcels.
In Eddy County, BLM proposed five parcels for lease on 2,492 acres.
Five parcels in Lea County were also offered, for a total of 921 acres.
In Sandoval County, 2,837 acres were offered for a lease on four parcels of land.
Support local journalism.Subscribe to the Carlsbad Current-Argus. 
The highest per-acre bid of $18,501 per acre was sold to Federal Abstract Company for 40 acres in Lea County, while the highest per-parcel bid went to Chevron for about $15.3 million for 1,534 acres in Eddy County.
Oil and gas leases are awarded by the BLM for at least 10 years, and then indefinitely while oil and gas is produced in profitable quantities.
Royalties from producing wells are also shared by the host states.
More:Oil and gas waste water companies merge amid Permian Basin boom
"The BLM's policy is to promote oil and gas development if it meets the guidelines and regulations set forth by the National Environmental Policy Act of 1969 and other subsequent laws and policies passed by the U.S. Congress," read a BLM statement.
"The sales are also in keeping with the America First Energy Plan, which is an all-of-the-above plan that includes oil and gas, coal, strategic minerals, and renewable sources such as wind, geothermal, and solar, all of which can be developed on public lands."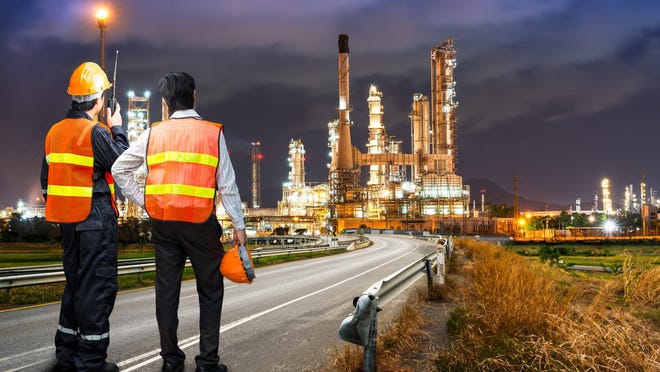 Oil and gas leasing protests continue
But a group of New Mexico activist groups and a consortium of business owners throughout the state questioned the BLM's continued sale of public land to industry as putting the environment, outdoor recreation and sacred locations at risk.
More:New Mexico accuses Permian Basin oil and gas operators of violating state air quality laws
In the November sale, the groups argued oil and gas development in southeast New Mexico could endanger the nearby Chihuahua Desert rivers which were proposed to be listed for federal protection as an "area of critical environmental concern."
Judy Calman, senior attorney with the New Mexico Wilderness Alliance said energy development should not be prioritized over the environment.
"The BLM continues to ignore the pleas of New Mexicans by offering oil and gas leases in sensitive areas without regard for the potential irreversible impacts.
"Some places, like wildlife corridors, areas which contain wilderness characteristics, unexplored caves, and habitat for threatened species should not be put on the chopping block for oil and gas companies' profits."
More:Environmentalists demand higher rates for oil and gas leases, question Trump's policy
Joan Brown, executive director of New Mexico Interfaith Power and Light said the BLM should cease leasing to the industry, unless the agency can ensure the safety of the public and the land.
"The BLM has an ethical and moral responsibility to citizens. The November Carlsbad lease sale is yet another example of the agency putting oil and gas industry interests ahead of our health and the welfare of our children," Brown said.  
"New Mexico Interfaith Power & Light urges the BLM to defer any leasing that does not protect our air and ensure a fair return to taxpayers."
More:Chevron recycles, reuses fracking water from oil and gas as Permian production booms
Data provided by the groups showed about a million tons of methane emitted by oil and gas wells in New Mexico, while about 14 percent of land leased to the oil and gas industry sat unused.
Meanwhile, outdoor recreation in the state supported about $10 billion in consumer spending, read the report, and on July 9 a group of 50 owners of outdoor businesses across the state sent a letter to Tim Spisak, director of the BLM's New Mexico Office, warning that their industry was at risk by the growth in resource extraction.
The businesses that signed the letter were mostly located in northern New Mexico, near Santa Fe and Taos, or to the southwest in Las Cruces or Silver City.
More:Q&A: Oil and gas scientist from Carlsbad to represent southeast New Mexico on state board
One business, Sol Investments LLC, was listed as located in the southeast New Mexico city of Hobbs, in the region where the vast majority of oil and gas leasing and activity occurred. 
Sol Investments' listed owner James Francis did not return a request for comment.
In the letter, the business owners pointed to New Mexico's $10 billion outdoor recreation economy, along with its support of up to 100,000 jobs.
The letter also cited the outdoor industry as embracing culturally important and publicly-owned lands that could be threatened by oil and gas development.
More:New Mexico oil and gas boom heightens pipeline safety
The BLM offered 18 million acres to oil and gas leasing in the past two years, with 178,000 in New Mexico near outdoor destinations such as Carlsbad Caverns National Park and Chaco Culture National Historical Park.
The businesses owners were also concerned about the environmental impact of gas emitted by oil and gas operations through venting and flaring.
"We understand the need for energy development, but it is essential for the overall health of the New Mexico economy to take the time to use best practices for determining where and how that development would take place," the letter read.
"This is especially critical not just to protect New Mexico's existing recreation economy, but also to make it possible for the power of the outdoor economy to reach other parts of the state."
Adrian Hedden can be reached at 575-628-5516, achedden@currentargus.com or @AdrianHedden on Twitter.