Price: Make a worthy investment in your marriage
Ron Price
Special to The Daily Times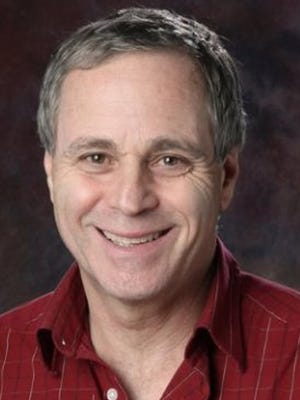 You probably know people who can brighten up any room simply by entering it. These are people who exude joy and a genuine zest for life and you just feel better being around them. You also probably know people who can brighten up any room just by leaving it, but we don't need to talk about them. Aaron and Yanabah Bluehouse definitely fall in the former category. I have known them for five years or so, and they always seem to have a positive outlook on life.
Aaron and Yanabah have been married 11 years. He is employed with the city of Farmington's utility department, and she is a representative for Send Out Cards. They have three "exceptional" children. While they are each quite satisfied with their relationship, they readily admit it has not always been, nor is it, always easy now.
I recently sat down with them in hopes of learning their secrets. I wanted to know how they are able to be so upbeat and positive, especially these days when so many of our fellow citizens are in deep distress. I found out I am not alone. Over the years, many people have come to them seeking counsel to deal with the stresses and strains of life. In response, they have recently formed a company called Nizhoni (the Navajo word for beautiful) Transformations and developed a seminar to help more people to do this well. I'm come back later and give you more information.
Yanabah credits Aaron with helping her develop her ability to be appropriately assertive and not shun confrontation as had been her style. He gently asked her questions to help draw out from her what she was thinking and feeling. This empowered Yanabah to be more forthcoming in their relationship as she realized openness and honesty were valued rather than punished.
Aaron describes himself as a "fix-it" person — I did mention he is a male didn't I? Most men do tend to go quickly to the fix it mode rather than listening and attending mode, but that's a topic for another column.  He credits Yanabah with helping him learn that he needs to let her have her space at times and not force a conversation. He has gotten better at yielding to her need for time alone over and above his need to resolve the issue right now.
Another component of their successful marriage is that while they are indeed a couple, they also strive to maintain their separate identities. They purposely schedule activities they enjoy and find fulfilling, but that the other might not wish to participate. They believe this helps them grow as individuals to better equip them to be the person the other needs and deserves.
Like so many successfully married couples, Aaron and Yanabah set times to be alone together each week. Often this will find them going to a movie or having dinner at a restaurant. If their schedules do not permit an evening date, they are careful to have lunch together to maintain their connection. Yanabah recalls, "I remember our kids used to always say to us, 'Mom and dad, how come you need a date night when you're already married?' I told them it's because we're married that we need time for ourselves just like we have special quality time with them. We need quality time for just us as husband and wife. So finally they got the picture and now they're like, "Oh OK, it's date night. So OK.'"

As I mentioned above, Aaron and Yanabah have recently put together a seminar they call Ignite Your Inner Warrior to "help stressed out professionals find their inner warrior so they can conquer their challenges and serve others in a powerful way." While I have no direct experience with this seminar, Rick Quevado, CEO of Desert View Counseling, speaks highly of it. He and his staff participated in a shortened version and were pleased with the results. Rick reports that at the onset of the presentation there was a sense of distress and tension in the room, but these were replaced by a lightness and joy by the time it ended.
While the program is especially helpful for professionals, Aaron and Yanabah believe it can benefit individuals and couples in all areas of life. All of us battle stress with predictable negative consequences. Their program helps participants find a proper balance between work and home and to get rid of the negative, unproductive thinking that we can so easily resort to at times.
They focus on four main areas, or challenges, in life: occupation, finances, health and relationships. Attendees will leave with an arsenal of tools and techniques to address life more productively. One component is "The Battle Plan." In their words: "Every day we deal with some kind of struggle or challenge so here we equip you with the right plan. We all need some direction in order to get ourselves where we want so you will be designing your own plan. A battle plan to follow every day."
Again, while I cannot speak from personal experience with Ignite Your Inner Warrior, I believe marriages require a boost every now and then to keep them in a healthy state. The next presentation is set for Nov. 4 and 5 at the Hyatt Regency Tamaya Resort and Spa in Bernalillo. Aaron and Yanabah also plan to hold the seminar locally once per month. You can get more information at nizhonitransformations.com.
Let me close with an encouragement to look into this program and see if it is a good fit for you. It may be exactly what you need, both as individuals and as a couple. If you decide it is not for any reason, please commit to each other that within the next 12 months you will engage in a personal and couple-enriching program. I'm confident you'll be glad you did.
Ron Price is the owner and operator of Productive Outcomes Inc. and the author of "PLAY NICE in Your Sandbox at Work,Toolbox Edition," a newly released paperback book available on Amazon or at PlayNiceinYourSandbox.com. He can be reached at 505-324-6328.