Price: Finding ways to let go of grudges
Ron Price
Special to The Daily Times
I have appreciated all the guest columnists who have shared with us their knowledge and wisdom concerning how to have a happy, healthy marriage. Today's columnist, Mark Goulston, is right up near the top of my list of favorites. He is the author of "Just Listen," "Get Out of Your Own Way," which I thoroughly enjoyed reading and a few others I've not gotten to yet.
In today's column, Goulston is offering a great deal on his newest book, "Talking to Crazy: How to Deal with the Irrational and Impossible People in Your Life." Be sure to read to the end to find out how you can get a free chapter and a ridiculous discount on the entire book.
Goulston and I will discuss tips and insights on how to improve or maintain a great marriage on "TWOgether as ONE" at 6 p.m. Monday on KLJH 107.1FM.
The best Valentine's Day candy may not be easy to swallow
Would you agree with the following?
You can't hold a grudge and be loving at the same time.
You can't be loving and hold a grudge as the same time.
If you agree, you might then ask, what in the world does that have to do with Valentine's Day candy?
Soft-centered chocolates are one of the staple gifts that people buy for their honeys for Valentines.  And if you don't know what the center is, you can have a "yucky" surprise when you bite into the wrong one and then look for a discreet way of spitting it out when nobody is looking.
Still confused?
Well, if you consider the two situations above as two different types of soft-centered chocolates, then one might be loving on the outside but grudge holding underneath, and the other might be grudge holding on the outside but loving underneath.
In the first case, you and your partner might appear loving on the surface, but if either of you is a grudge holder, then it will take very little for a misstep or misstatement to spoil Valentine's Day.
In the second case, if you and your partner are each or both grudge holders on the surface, then it will be difficult to do anything right to win the day. As a result, you will do the least possible to just go through the motions because either or both of you have such low expectations for it being a happy day.
Sadly, if neither of you are truly "dyed in the wool" grudge holders and each or both of you could find a way to give up those grudges, you might actually find that you have had loving feelings underneath the whole time. It's just that when you're a grudge holder, resentment gets in your eyes and stays there.
So what's the antidote to this Valentine's Day and relationship killer?
It's simple, if not easy. Find a way to let go of your grudges toward each other, and I mean let go of them permanently.
How can you go about doing that?
Here are a handful of suggestions:
Make a list of all the things you are grateful to the other person for that he or she adds to your life that wouldn't be there if it were not for him or her and be specific.

Give them a "power thank you" for those things, which consists of three parts:

Thank them specifically for what they add to your life.
Tell them that you appreciate the effort it takes for them to do that.
Tell them what their adding those things personally means to you (you should be feeling a bit choked up if you're sincere).

Make a list of all the things that make you difficult to be with and that he or she either overlooks, tolerates or at the very least doesn't verbally beat you up about.
Give them a "power apology," which also has three parts:

Tell them what you did or failed to do that hurt, upset and/or disappointed them
Tell them you were wrong for doing or failing to do it and that you're sorry
Tell them what you are going to do differently going forward to not repeat it and that you will check in with them every couple weeks to see if you've kept your word
If you're still having trouble letting go of the grudge holding part of your personality, think of the parent or other person who you likely learned it from and swore to yourself that you'd never be like.
I hope that gave you something to bite into, think about and try.
If this approach speaks to you and if you'd like to not just fix or improve your relationship, but make it better than your genetics, upbringing or negative baggage would have predicted was possible, my publisher Amacom Books has allowed me to share the chapter "You've Lost That Loving Feeling?" with you from my book, "Talking to Crazy: How to Deal with the Irrational and Impossible People in Your Life, " which normally costs $24.95 now on special at $1.99 at Amazon Kindle.
Happy Valentine's Day!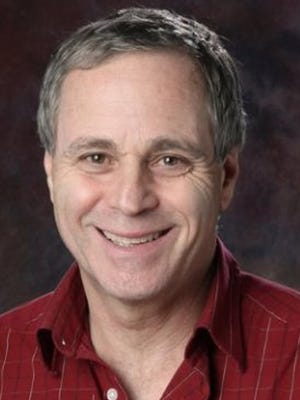 Get a copy of 'Talk to Crazy'
One of the factors that I so admire about Dr. Goulston is he conveys his thoughts in a very easy to understand and and relatable style. Marriage can be tricky at times, but it is well worth the investment of time, energy and resources to learn how to do it well. I hope you'll look into getting your own Kindle copy of "Talk to Crazy." I believe the special price is only good until the end of February.
Ron Price is the co-founder and executive director of the Four Corners Coalition for Marriage & Family, a nonprofit organization dedicated to strengthening and equipping marriages and families in the Four Corners area. He can be reached at 505-327-7870.