Price: Living 'The Vow' is a lifestyle choice
Ron Price
Special to The Daily Times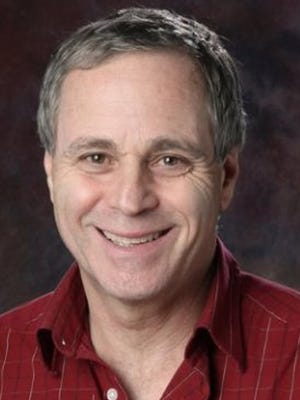 Today's guest columnist is no stranger to most of you. Kim Carpenter is San Juan County's county executive officer. He and his wife, Krickitt, are now well known to millions around the world as the inspiration for the movie "The Vow." They are also the authors of the New York Times bestselling book by the same name. By the way, while the movie is entertaining, their true story is found in the book, not the movie.
As Kim mentions, it is somewhat disturbing that their notoriety stems from simply doing what should be the norm, and yet their courage and commitment has become woefully absent in so many marriages. Kim and Krickitt will be telling more of their story at 6 p.m. Monday on "TWOgether as ONE" on KLJH 107.1FM.
They are also the featured guests for the Ultimate Date Night. This annual event, sponsored by the Four Corners Coalition for Marriage and Family and others, is set for 7 p.m. Feb. 19 at the Farmington Civic Center, 200 W. Arrington St. Thanks to the generous contributions from many friends of the coalition, this will be a free event. Seating is limited so you must have a ticket to get in. More information is available at the coalition website, www.fccmf.org.
Living 'The Vow'
The original intent for humanity was to live by making a difference in a good way. For Krickitt and I, living the vow is the way we live our lives each and every day. It does not matter whether it is at a ballgame, at home, at work or with friends; keeping the vow is how we all should live. It's not just for marriages, not just in the workplace, it's a lifestyle.
In too many marital relationships today, the definition of until death do us part has taken on a whole new meaning. The last three decades of the 20th century and the first 15 years of the 21st have evolved into a present-day definition that describes the death of a marriage and not the death of a spouse.
We live in a world where the foundations of our families are perhaps at their weakest point ever.  Rampant divorce has taken a heavy toll. Single-parent homes are at an all-time high. This typically correlates to an instant lack in the stability of our family structure. Lack of commitment is no longer rare — it's become commonplace. This also leads to statistical evidence of higher crime rates, the need for more drug rehab programs and the story goes on and on and on.
Our societal acceptance of divorce evolved. It did not just happen overnight.  And this societal acceptance is exactly what needs to change to make our world a better place to live. That change will take generations, and it has to start with the commitment of one person, one couple, one household, one neighborhood, one community, one city, one state and one country at a time. Is it possible? Sure it is, but not until people are willing to change their attitudes and develop a position of unshakable commitment.
As I see the personal experience that my wife and I went through and how the world has reacted, it has given me hope. The world took on our story and carried it to the No. 1 movie in the box office, along with a No. 1 New York Times bestselling book. What is disappointing about it all is that the world embraced this story when all Krickitt and I did was do what we said we would do when we took our vows.
I also believe that "The Vow" became popular because of a deep-seated need for change that many people desire. There comes a point where one realizes what is right and good in this world. That is why now, I see stories like ours and others becoming more and more popular and I have no doubt in my mind that society wants to see this change.
When you promise to do something, you make a commitment or a vow to be the person you promised to be and to faithfully do what you said you would do. Enough of the broken promises already, watch what happens in your life when you do what you say you are going to do.
How many times have you heard someone say "I married somebody whoI did not really know." Of course you did, it happens all the time and this can create a hardship that has devastating effects on not only those married, but everyone surrounding them.
We all play the game of being on our best behavior when we date. Each one puts on an act of sorts to impress the other. Only later do we realize that is not the way he or she is now or the way they really were then.
Starting out it is vital that you open up yourself to being who you really are and not who you want to be seen as.
Krickitt and I are not perfect, and we have our marital struggles. We argue and bicker just like other couples. We have our family struggles as well, but one thing that has remained constant is that we always try to be open about our feelings and strive to deal with truth having no secrets from each other. We also face the reality that life is hard and marriage is tough. However, one thing that remains constant is practicing the dynamic that we are in this for good, and we never consider the easy way out that so many in our society now embrace. For far too many of our younger generations, growing up with divorced parents is all they know.
For marriages to survive today, there must be the commitment that what brought you together is only a basic foundation. What you do to grow your marriage will determine the final outcome. If you think what brought you together will keep you together, there is a high likelihood that you will fail. We all change over the years and a major enemy in a marriage is routine. You did not do anything routine when you dated, why start? In the long run that routine will have each of you digging trenches to a point you cannot reach each other anymore and we all know what happens when something is out of reach.
Ron Price is the co-founder and executive director of the Four Corners Coalition for Marriage & Family, a nonprofit organization dedicated to strengthening and equipping marriages and families in the Four Corners area. He can be reached at 505-327-7870.