Price: Making a marriage work in retirement
Ron Price
Special to The Daily Times
This is a return visit for our guest columnists Dave and Claudia Arp. In fact, they have either written or been cited in five previous columns. I guess you can consider me a fan of their work to help people enjoy their marriage. Though best known perhaps for their book "10 Great Dates to Energize Your Marriage," they have also written similar books for engaged or dating couples, as well as for emptynesters. Today's column focuses on this latter stage of marriage.
Navigating the retirement years
Three little words, "Honey, I'm retiring," can change your marriage forever, but the key is to make sure it's a change for the better. How can you cope with lunch together every day?
When one or both retire, the dynamics of the relationship change. Roles must be redefined. Certainly one of the challenges of the retirement years is managing all that extra time together. While we aren't retired, we understand the "togetherness" factor. Daily, we work together. Our desks even face each other, which is a love/hate thing. I (Claudia) love it when I want Dave to listen to a draft I just wrote, and he's my captive audience. On the other hand, when I'm trying to concentrate and he uses the speaker phone, it drives me crazy.
I (Dave) have similar feelings. When we're doing phone interviews, it's great to be face-to-face — I can signal Claudia, "Hey, you're talking too much. It's my turn!" — but when Claudia's vertical files fall over on my desk, it bugs me.
With so much togetherness over the years, we've learned to cope. So if you've just retired or contemplating retiring, here are some tips to start out right.
Be flexible: This is a transitional time, so be willing to try new things. Consider marriage in the second half of life an adventure. Develop a sense of humor and don't take yourself so seriously.
Let go of the past: Let go of past disappointments, missed expectations and unfilled dreams, forgive each other and choose to make the rest the best. You may even want to make a list of things you will never do or will never do again. But then make a list of things you want to do in the future. Accept each other — with your strengths and weaknesses — just as you are. At this stage of life, you're simply not going to change each other.
Create a partner-focused marriage: In the past, you've focused on your kids and your job. Now is your opportunity to focus on each other and learn how to be together again. Choose a common interest or hobby. Learn to line dance. Play golf, but don't keep score; take a course. Work out together. Take up hiking or fitness walking. The mall is a great place to walk, and it's cheap if you go before the stores open.
Balance times together and times apart: Too much togetherness can be too much, so make sure you have some time just for you. You need some personal space, but you also need to reconnect. 
Learn how to work together and share responsibility: Throw out the old grids of who does what and divide up the work so you're both contributing. For instance, in the empty nest, Dave does the dishes each evening and is affectionately called "the kitchen elf." In the morning, Claudia gets up first and fixes coffee for Dave, who definitely isn't the "morning person."
Energize your love life: Actually your love life in the second half can be better than in the parenting years. Look for ways to romance your partner. Think of your love life as a stroll, not a sprint! Enjoy the slower pace. Surprise each other. Kidnap your mate for a getaway.
Have great dates: For years we're written books on dating. It's vital! Our best advice for the retirement years; never stop dating. Or if you've stopped, start. Dates don't have to cost a lot of money. Actually dating is more of an attitude. You can turn almost anything into a date. For instance, a few weeks ago, we had a Flu Shot Date. The fun part was stopping on the way home for coffee and dessert. 
Keep growing forward:  Realize that marriage is a journey, not a destination, and you can decide where you want your marriage to go. It takes work but even in retirement you can learn new skills to help your relationship grow stronger. 
So when you're faced with all those lunches together, accept the challenge and find new fulfillment for your hopes and dreams. Retirement offers the opportunity to reinvent your marriage. We're convinced that Robert Browning was right when he said "Grow old along with me, the best is yet to be!" Maybe he was even talking about retirement!
Hear more from the Arps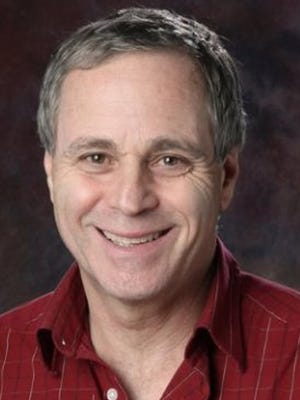 Hopefully, you now understand why I invite the Arps to share their knowledge and wisdom with us on a recurring basis. They have a wealth of helpful resources at their website, 10greatdates.org. You can also connect with them on Facebook. And, lastly, you can hear more from Dave and Claudia on "TWOgether as ONE" at 6 p.m. Monday on KLJH 107.1FM. We'll be discussing more from their first book, "The Second Half of Marriage."
Ron Price is the co-founder and executive director of the Four Corners Coalition for Marriage & Family, a nonprofit organization dedicated to strengthening and equipping marriages and families in the Four Corners area. He can be reached at 505-327-7870.