Price: Couples must face financial realities
Ron Price
Special to The Daily Times
Our guest columnist, Jen McDonough, aka "The Iron Jen," is a virtual fountain of optimism, energy, wisdom and determination. Though she might never claim that moniker, others who know her would certainly agree. She is the kind of person who can brighten any room just by entering it — as opposed to some of us who can brighten any room just by leaving it. Jen regularly speaks to first responders and others in high-stress occupations to help them learn how to overcome adversity and live to their full potential.
I invited her to write today's column as she presently has a top-rated Amazon Kindle book on budgeting that she is offering to us for free. Jen and her husband, Bob, have weathered various storms in their 23-year marriage and have come through stronger each time. I'll be back at the end of her remarks to tell you how to get your free e-book and learn more about Jen and how lessons learned from her life experience can enhance your marriage.
Facing your financial reality
Several years ago our family found ourselves drowning in fear, shame and stress over our financial issues. We had just learned our son was diagnosed with a lifetime medical condition and were blown away from the amount of grief this "perfect storm" was causing to our marriage, our health and our faith and in our careers. While we both were embarrassed and ashamed over our financial situation and whirling in pain over our son, the way we each dealt with our situation was very, very different. I wanted to take control of the situation, while my husband wanted peace and harmony. This led to many hurtful situations where we found ourselves either lashing out at or living in isolation from one another. Every minor financial situation that arose now became a major crisis.
The kids had an extra field trip added on that required money – major upheaval!
Our credit card was maxed out, and we didn't have enough for groceries – total panic!
Our energy bill came in at $50 over what we thought – oh crud!
Like many, the present was often too painful to deal with, and the future froze us with anxiety and worry. How many of you can relate?
Fast forward four years, and literally our story has a fairy tale ending as we went on to pay off more than $212,000 worth of debt and medical expenses. We also participated in a two-year research study for our son. Though he is not cured, he is doing great.
While our story does have a fairy tale ending indeed, the beginning to our story was absolutely a nightmare. How many people do we see living out nightmare situations today?
Almost half the married couples we know end up in divorce. 
We see that medical issues are the No. 1 cause of bankruptcy.
80 percent of us are stressed in our work situations. 
In getting to speak to first responders and teams that work in high stress situations, we find that many of the problems people face today boil down to the simple fact that most of us don't realize what reality we are living in. For our own situation as it related to finances, part of our crisis stemmed from the fact that we were living in complete ignorance around what debt was. We saw debt as only being in our one $15,000 credit card — we didn't think of debt being in our 401K loans, our car loans, our second mortgage, etc.
As it related to communication in our marriage when this happened, I saw living on beans, rice and air as a luxury while my husband could only see what we didn't have. You can probably guess how this went over with our communication and connection to each other. I nagged about our budget 24/7, and he just kept on spending as we had been able to in the past. This caused for some mighty heated moments to say the least.
When we started to deal with the reality around our communication, we could clearly see the differences in how we are wired. After all, isn't it true for many of us that opposites attack, I mean, attract? As we faced reality in how each of us were wired, we could see that we had different motivators. For me, it was seeing that our goals were met consistently in the here and now. For Bob, it was seeing the dream of where we were going as it held security in seeing hope for our future.
No matter what our situation is — whether it is in finances, health, careers or, of course, marriage — facing reality can be the hardest thing to do. In fact, most of us find that "marinating in the pain" is so much easier in the short term when in fact piercing through the pain and facing our reality is so much healthier for our future.
Facing reality takes courage. Many times courage is found first through simply breathing through the moment, acknowledging our fears and then deciding to move forward to facing our reality. The good news about going through painful situations is that it helps us to grow, for it is in our weakest moments that we learn to grow the strongest.
Hear more from Jen McDonough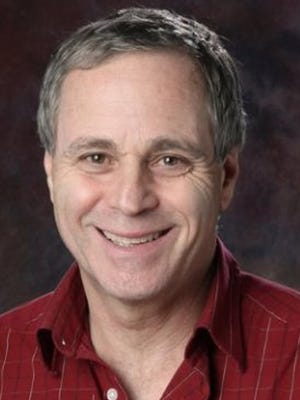 I trust Iron Jen was able to give you some courage to better face the particular storms you are facing in your marriage or to be better prepared for the next ones. Please note, as I have often said in this column, all marriages will encounter difficulties at times. The more we can accept that reality, the better we can work together to come out stronger on the other side.
To get your free copy of her e-book, "5 Minutes a Day to Living Beyond Rich," go to theironjen.com. Click on store and scroll to the bottom. After you add to cart, use the promo code "MyMarriage." Jen calls this "the book for people that hate budgets, hate Excel spreadsheets and don't think they are good at finances." The discount code will be available only until Nov. 1.
I'm happy to say that Jen will be my guest on tomorrow's "TWOgether as ONE" when we'll be talking more about money and marriage, along with other tips to help you get all you hoped for when you said "I do."  "TWOgether as ONE" airs on KLJH 107.1FM at 6 p.m. every Monday. You can also listen at kpcl.org by clicking on Superstation 107.1.
Ron Price is the co-founder and executive director of the Four Corners Coalition for Marriage & Family, a nonprofit organization dedicated to strengthening and equipping marriages and families in the Four Corners area. He can be reached at 505-327-7870.